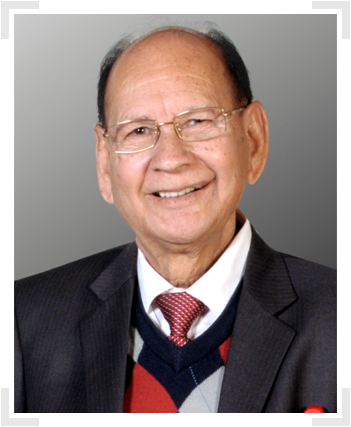 Late Shri Nageen Chand Jain
Founder Chairman
Founder Message
The Founder Chairman of Nageen Group Late Sh. Nageen Chand Jain, was a reformer humanist and an educationist. He believed in spreading smiles by sharing his blessings and resources with everyone who needed his help.
His Early Life: He was born in 1942, in a small village near Hapur, in the family of Honorary Magistrate Seth K. L. Jain. After the early demise of his father, in early twenties he all alone shouldered the responsibilities to bring up his entire family of four brothers and two sisters. He loved his family and made every possible effort to make their lives comfortable and progressive.
His Struggle and Projects: Having completed only his primary education, Sh. Nageen Chand Jain worked hard with little means to earn his livelihood. His pragmatism urged him to venture forward dauntlessly, dreaming to achieve something for future generation, and so, he set up a publication house by the name 'Nageen Prakashan', at Meerut, UP, 52 years back in 1965. Thus came into existence, the books that have changed many lives by enabling them to take up IIT, Medical, IAS, PCS and other competitive examinations confidently.
In order to evolve a new educational approach, he established Shanti Niketan Vidyapeeth, a school with highly sophisticated amenities and state-of-the-art infrastructure in 2005.
His Philosophy: He was a firm follower of the belief that knowledge is something that is needed to be taught. He insisted on framing ones character first, and academics later. He was of the belief that a good character far exceeds the values of learning such as to read, write, and complete calculations and other uses. He has left behind him a pure and inspiring legacy for future generations to follow and carry forward his mission of developing our education system to support the holistic growth of each individual enrolled in Nageen Group of Schools.