Managing Director Message
Managing Director Message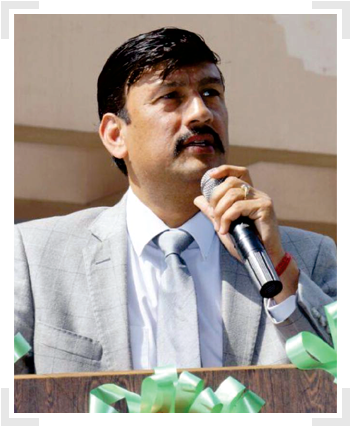 Vishal Jain
Managing Director - Nageen Group
Managing Director Message
"All I am armed with is Research."
- Mike Wallace
In education, we have a great opportunity to make a real difference in the lives of our students, their families, clients, stakeholders, and the world. My Father, Mentor and Founder Chairman of Nageen Group Late Sh. Nageen Chand Jain believed and wished that every individual must succeed, if India is to be a thriving, and competitive nation in the global economy. Under his able leadership, I decided to build a system of education that will set course for future generations to find their mission in life, as I clearly understand the significance of research methodologies and constant perseverance to generate ideas which define success and achievements for each one of us.
Every day in Nageen Group, students, staff, and our clients discover who they are and what they can become—the credit goes to the incredible efforts of our team, and the involvement of our shareholders and our advisory board. By taking time to understand and nurture each individual, we are able to succeed together—we have more smiles to share with each other.
We constantly ponder over what strategies can we use to serve a diverse array of students, not only to master standards, but to learn to share meaningful ideas, to analyze, and to engage deeply in subject matter. We think ahead of time and pre-empt to enhance our abilities and facilities as educators and social servants. We are constantly improving our infrastructure, laboratories and computational facilities to enhance the learning experience of the future architects of our civilization.
As we look back over the years, we remember God's Providence. His blessings have bestowed upon us with gifted leaders, skilled staff, and our precious students, who are enabling the Nageen Group to attain a new height year after year with their achievements. I would like to share a few of the highlights of our history:

I feel highly obliged towards my support system for its constant faith in my abilities to take Nageen Group forward and achieve prominence. I also feel proud to state, that as an educationist, I shall continue to generate thoughts to propel Nageen Group towards new frontiers, and develop a stronger analysis based system to empower our global societies.