St. Xaviers World School For Kids W.K. Road Meerut
St. Xaviers World School For Kids W.K. Road Meerut
We Facilitate our

stake holders

parents

students

teachers

principals

educators

with the best learning opportunities.
We have the ability to deliver great outcome with satisfactory results within proper time with high quality work.
Our School provides the best mix of education and co-curricular activities.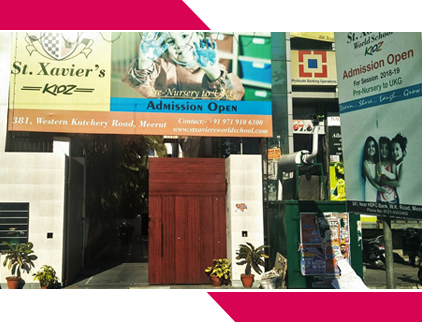 St. Xavier's World School for Kids, W.K. Road Meerut
At St. Xavier's Kids W.K Road Meerut, we believe and have a holistic approach to education, so that there is an overall development of a child. It is a place where kids not only have fun but take their first step in formal education. This is being achieved with a team of amazing teachers who are totally committed and dedicated to their honourable profession.
The childhood of a little one is precious. It is meant to be enjoyed and cherished. The child should love each moment of it and should love and enjoy coming to school.As educationists we know that a beginner needs to feel cared, loved and secured when away from home and parents. The environment is full of love, joy and excitement to shape the young minds of the future and expand their wings to fly and to feel at home and learn to adjust and make friends with the other children; hence we strive to provide a healthy atmosphere of love and care.
Early grooming of a child plays an important role in laying a strong foundation on which the child can further develop. We emphasize on learning skills, inculcate moral values, good-manners and etiquettes, so that the parents can be proud of their child.
---
What sets us Apart
Dermatoglyphics Multiple Intelligence Test (DMIT) is scientific study of finger prints pattern that helps in understanding the potential and personality. Speed Reading is to help a child to develop love for reading which is a stepping stone to become an enthusiastic learner and a confident reader. Calligraphy is the art of writing artistically to make the writing beautiful. Skating is the perfect way to combine fitness with fun. A sport that is enjoyable for kids. Taekwondo helps increased the child's physical coordination, flexibility, balance and self-defence. Vibrant and Fun classrooms are colourful spacious and airy. Fresh and Healthy food is nutritious and good for a growing child. Fantastic outdoor is an area with a lot of greenery around. We have a terrace garden where children can dance and enjoy the nature. Kid's library is a place where children can relax and enjoy reading story books. Fully Air-condition a better way to keep students comfortable in their learning environment.
---