St. Xaviers World School Meerapur
St. Xaviers World School Meerapur
We Facilitate our

stake holders

parents

students

teachers

principals

educators

with the best learning opportunities.
We have the ability to deliver great outcome with satisfactory results within proper time with high quality work.
Our School provides the best mix of education and co-curricular activities.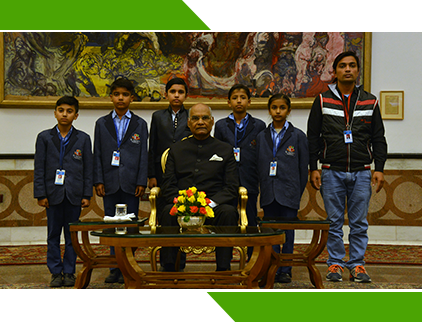 About St. Xavier's
St.Xavier's is an English Medium day-cum Residential School for Girls' located at Mawana Road,Meerut. St.Xavier's World School for Girls was founded in 2015.It is Affiliatedwith CBSE New Delhi. It is a progressive school based on Indian thought process, culture, tradition & the educational ideals of St. Xavier's.
The school is situated in Pollution free environment on 15,000 Sq.ft. of land with extra land as playgrounds. The school grounds are beautifully landscaped. The classrooms are spacious and well-ventilated. Well-equipped Laboratories, Digital Maths Laboratory, Multi Media Lab, Computerised Interactive Class Rooms, Science Park, Library, Music and Dance Rooms, Art-craft room and Activity room are the other facilities provided by the School.
The School lays emphasis on games and extracurricular activities which include Music, Dance, Art and Craft, Gardening, Clay Modelling, Tae-kwon-Do, Yoga, Aerobics, NCC, Computer Science, Theatre Craft, Public Speaking, Media Literary etc. for developing life skills. Among many sports activities in the school are Badminton, Chess, Skating, Kho-Kho, Basket Ball, Volley Ball, Throwball and Athletics.
---
School Aims
At Xavier's World School we aim to provide an excellent education for all its students in a safe and healthy environment where students and staff can share a love of learning and enjoy satisfaction in their achievements. The school wants to promote confidence in its students. The traditional strengths and values are combined with a determination to embrace new challenges, to promote flexible and lifelong learning and to prepare the members of the school's community for the future. The school is committed to valuing all subjects and areas of the curriculum.
The aims will be achieved by:-
Creating an ethos where spiritual life and moral values underpin what to do.
Working collaboratively within the school: with parents and governors, with partner schools and in the wider community. The school will learn from others and also offer its own expertise where it can.
Promoting a culture in which everyone, irrespective of age or experience, is recognized as having potential for learning, where challenge and innovation are welcomed and where staff and students are encouraged to become members of a learning society. Members of staff are encouraged to be reflective and innovative practitioners. Staff and students engage in regular self-review through procedures which are embedded into the life of the school.
Creating an environment which promotes personalized learning and lifelong skills by maintaining focus on the individual student's needs, both academic and pastoral.
Promoting excellence and also breadth in educational experiences. The school wants its students to fulfill their potential across a range of achievements: academic, social, creative and personal.
Promoting inclusion for all students and staff and finding ways to listen and respond to the 'student's voice'.
Sustaining commitment to promote active citizenship, respect for others and a willingness to become involved in society.
Fostering work-related learning and links with business and industry.
Using technology creatively to help and inspire learning.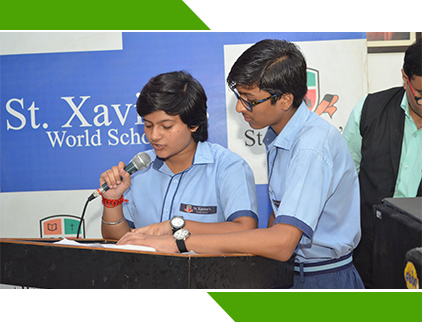 ---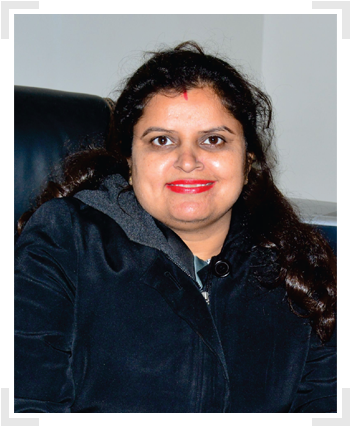 Message from the Principal's Desk
Instead of a thousand words.
Better just one,
One that brings peace.
Instead of a thousand verses,
Better just one,
One that shows beauty.
Instead of a thousand songs,
Better just one,
One that spreads joy
—This was Lord Buddha's vision
Our value focused academic practices are helping our children to shape themselves to meet the growing challenges of the world.
Foreseeing the technical advancement of the world we are equipping them with latest technologies too. We believe in the learner's responsibility, which is essential for the better learning process, whereas teachers here are scaffolding them towards their achievement. Our children are more inquisitive and exploring; if they are channelized they will do greater things. Mere knowledge transformation is not only completing the role of a contemporary teacher.
Ample numbers of sociological and emotional challenges arewaiting for the children in the society to deal with Growing cosmopolitan settlements which expect more flexibility, adjustments and compromises in the social process. Inhumane practices are spreading across the world since the faith in the moral values is degrading. Our basic values of tolerance and patience with perseverance need to be reinstated in the tender minds. Values of the great personalities who have shaped our country so far need to be reminded again and again. This country needs strong individuals nurtured in the high quality ethical environment.
Eventually the child has to leave the school as a complete human being with all the skills required for the 21st century. Considering all these things we are designing a progressive curriculum which is more accommodative to meet all the challenges positively. Since we ensure freedom for the children to think, their confident level is also raising. As per our vision we are working to produce physically, mentally and socially vibrant citizens who are with commitments to the development of a strong nation.
Ms. Shelly Gandhi
Principal
St. Xavier's World School, Meerapur
---