St. Xaviers World School For Kids Khatauli Muzaffarnagar
St. Xaviers World School For Kids Khatauli Muzaffarnagar
We Facilitate our

stake holders

parents

students

teachers

principals

educators

with the best learning opportunities.
We have the ability to deliver great outcome with satisfactory results within proper time with high quality work.
Our School provides the best mix of education and co-curricular activities.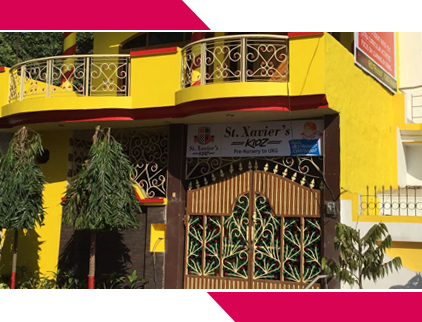 St. Xavier's World School for Kids, khatuli
At St. Xavier's World School for Kids, Khatauli Muzaffarnagar we believe in progressive education and lean heavily on the seers and education philosophies of both the western and eastern metaphors and we intend 'giving' to our children an education that is for the dawns of the future. We believe that "The first principal of true education is that we are here not to teach" As educationists lending its support-our focus is to lace the centre with an ethos, vision and human resources that are in sync with providing each child with a life long base of curiosity, order, complete work habits and a deep sense of belonging to their inner psychic calm.
Our endeavor is to balance children's fights of imagination with scaffolding for Indian values and clarity of concepts that are globally bench marked to stages of age appropriate standards of development.
We know that the first six years of a child's life are critical learning years for holistic development. "Empowering children along the grain at their own pace, has been the 'one thought' behind the vision." Research has shown that early years learning plays a crucial role in the development of the intellect, self-esteem and self confidence. We have written our curriculum, designed our facilities and trained our facilitator according to these findings. The idea being to ensure that the Vision, Mission, Philosophy and Methodology mingle to a rhythm of a little one's gurgle and intrinsic need to be loved and gently nudged to a facilitation for their confidence and self esteem. St. Xavier's World School for Kids khatuli, Meerut aim at providing the highest standards of Early Child Care and Education. The programs offer peace of mind to each parent. We understand ECCE as we have listened to parents, teachers and children while developing our programs.
---
Methodologies
We have developed researched in-house training modules for our educators and staff. Regular up-gradation of methodologies and systems is undertaken by involving experts on the subject and the field. Training is an ongoing process at St. Xavier's World School for Kids, khatuli.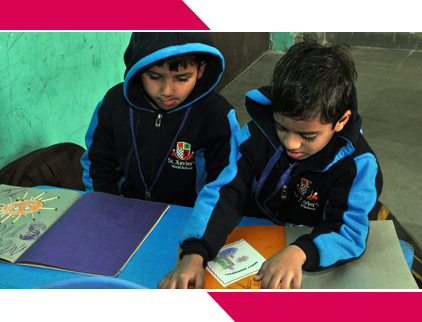 ---
Technology Aided Learning
We provide a carefully planned & structured environment in which the child grows and learns in a natural way. We provide the child with hands-on learning experience by adopting the latest technological tools for teaching such as interactive white boards, e-blocks etc. These teaching aids clarify the basic concepts of numbers; words etc., enhance the concentration power of the children, improves their listening, speaking & reading skills ,enables fast-paced learning and makes learning interesting for them.