School of Educators Journal
School of Educators Journal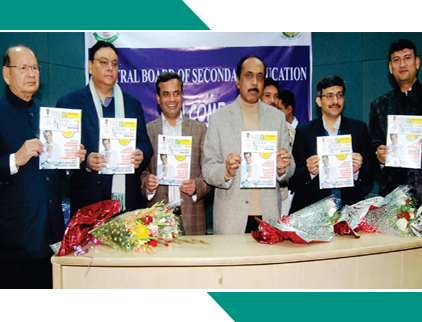 India's No. 1 Journal/Magazine for Educators
School of Educators Journal
"School of Educators" India's only journal based on education recommended for school heads, teachers, other educators, professionals, researchers, students and parents.
"School of Educators" is registered RNI practical journal for those who train, mentor and educate. This journal is a must buy/subscribe for all schools/ colleges libraries, individual teachers and leaders. Many of the prestigious institutions all over the world like: are already subscribed D.A.V. Schools, Delhi Public School, Army School, Navodaya Vidyalayas, Bhartiya Vidya Bhawan's Schools, Indian School from Doha and many of other prestigious universities, colleges and institutions.
The second volume was launched by Sh. Shatrughan Singh, IAS – Sp. Sec. Prime Minister, Mr. Alok Nigam, IAS, Jt. Sec. Finance, Mr. Vineet Joshi, IAS, Chairman CBSE and Mr. Vishal Jain – Chief Editor SOE & Jt. Sec. AICOI. The journal was also greatly appreciated by the Chief Minister of Haryana, Sh. Bhupinder Singh Hooda.
Presently 2 million teachers have to be trained to meet the demands of current education trend and SOE is a part of it to provide free teacher's training. We are empowering the first time teachers (small and rural India's teachers) to become empowered. SOE is empowering 1.2 million schools of India and same around the globe.
We strongly recommended that your school register with us for a multiple subscription of SOE (one each for the library, staff room and principal's office) or a whole faculty subscription i.e. one copy per teacher. This will enable your teachers to be well informed about the latest innovations and trends in the world of education empowerment.