St. Xaviers World School Bathinda
St. Xaviers World School Bathinda
We Facilitate our

stake holders

parents

students

teachers

principals

educators

with the best learning opportunities.
We have the ability to deliver great output with satisfactory results within stipulated time with high quality work. Our School provides the perfect blend of academics, curricular and co-curricular activities to give complete sense to education as whole.
About St. Xavier's
St.Xavier's is an English Medium day-cum Residential School for Girls' located at Mawana Road,Meerut. St.Xavier's World School for Girls was founded in 2015.It is Affiliatedwith CBSE New Delhi. It is a progressive school based on Indian thought process, culture, tradition & the educational ideals of St. Xavier's.

The school is situated in Pollution free environment on 15,000 Sq.ft. of land with extra land as playgrounds. The school grounds are beautifully landscaped. The classrooms are spacious and well-ventilated. Well-equipped Laboratories, Digital Maths Laboratory, Multi Media Lab, Computerised Interactive Class Rooms, Science Park, Library, Music and Dance Rooms, Art-craft room and Activity room are the other facilities provided by the School.

The School lays emphasis on games and extracurricular activities which include Music, Dance, Art and Craft, Gardening, Clay Modelling, Tae-kwon-Do, Yoga, Aerobics, NCC, Computer Science, Theatre Craft, Public Speaking, Media Literary etc. for developing life skills. Among many sports activities in the school are Badminton, Chess, Skating, Kho-Kho, Basket Ball, Volley Ball, Throwball and Athletics.
---
The school with a difference
St. Xavier's World School-NFL contributes to our vision that empowers the students to lead fulfilling lives by preparing lifelong learners and global citizens. The young minds are bestowed with individual academic, creative and sporting talents. The scholastic ethos encourages a questioning mind and help building life skills of students.

Honouring the diversity of communities, we imbibe Indian values in every child yet preparing them for international horizon. The school's commitment to have a warm student-teacher-parent connect is part of our founder's mission.

We believe education is the most complex issue of our times. I hope you find the information helpful and that it gives you a taste of the happy, industrious school that we are. St. Xavier's is a caring school, with a team of dedicated professionals which is here to ensure that the children get the most from their education. Every member of staff is committed to providing the children with a happy well- disciplined environment where the children can make the most of every learning opportunity offered to them.

We aim to be a school where all the children are inspired to see learning as a lifelong experience, thus empowering them to make good choices later in life. The school promotes the best possible academic, cultural and moral values in a Christian environment. All our Children, regardless of background, culture, religious belief of ability, are equally valued, supported and challenged.

High Academic Achievement Effective Standards-Based Instruction Fiscally Solvent and Increase Enrollment Accountability for all Stakeholders Safety and Security of Students and Staff.

Our Aim

We plan to develop a career path for each student and shape his/her personality as suited to the career opportunities as required for him/her to flourish in his future profession. For this we plan to inculcate a sense of divine/value based teaching so that he/she is able to chose the right path and strengthens his/her decision making abilities.

Our Objectives

At St. Xavier World School, we endeavor to develop a range of skill set which will be required to survive in professional domain as well as in 21st century advanced society.
Residential School / Hostel
St. Xavier's World School, Bathinda set up the Hostel facility for its residential students with the aim to create a 'Home away from Home' for the students. Situated 8 km away from Bathinda Railway Station, the hostel is built on the sprawling 2 acres of the lush green school campus. The highly secured hostel is offered for boys from Grade 3 to Grade 6 onwards. The hostel prides itself on aesthetically designed, well-ventilated and spacious rooms for the students. The playground has football ground, cricket pitches, badminton, basketball and tennis court facilitates holistic growth of our resident students. The students are provided with study rooms to pursue their studies after school. We also offer special coaching facilities for resident students. Our experienced, caring and approachable staff takes care of our students round the clock. On campus, we have a 24×7 medical facility for all kinds of medical help. Further, we only serve highly nutritive food that is appealing to all palates. We pay special attention to housekeeping and hygiene. To ensure life beyond the hostel, regular outings are arranged for our residential students in the lap of nature. Away from home, our students and staff celebrate all festivals with enthusiasm. The school has successfully created an ambiance of comfort to transform the hostel into a 'Home away from Home' for our young learners.

Facilities in brief:

Well Furnished Air conditioned Rooms – The hostel rooms are adequately furnished. We provide a separate bed with mattress, a study table and a chair and a wardrobe to each student. Each dormitory is looked after by wardens and other supportive staff.
Wash Rooms/ Toilets
Mess Facility
Laundry Facility
Medical Facility – The infirmary is run and managed under the guidance of qualified nurse.
Security – To ensure safety and security of the students had deployed Security Guard which is further beefed up with CCTV Cameras.
Sports, Indoor Games & Common Room
Entertainment & Outings
Tutorial & Remedial Classes
Wifi equipped campus
Well furnished computer labs
---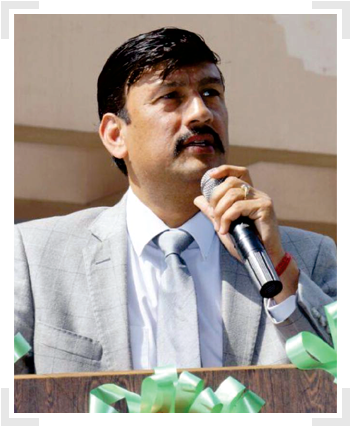 Vishal Jain
Managing Director - Nageen Group
Managing Director Message
"All I am armed with is Research."
- Mike Wallace
In education, we have a great opportunity to make a real difference in the lives of our students, their families, clients, stakeholders, and the world. My Father, Mentor and Founder Chairman of Nageen Group Late Sh. Nageen Chand Jain believed and wished that every individual must succeed, if India is to be a thriving, and competitive nation in the global economy. Under his able leadership, I decided to build a system of education that will set course for future generations to find their mission in life, as I clearly understand the significance of research methodologies and constant perseverance to generate ideas which define success and achievements for each one of us.
Every day in Nageen Group, students, staff, and our clients discover who they are and what they can become—the credit goes to the incredible efforts of our team, and the involvement of our shareholders and our advisory board. By taking time to understand and nurture each individual, we are able to succeed together—we have more smiles to share with each other.
We constantly ponder over what strategies can we use to serve a diverse array of students, not only to master standards, but to learn to share meaningful ideas, to analyze, and to engage deeply in subject matter. We think ahead of time and pre-empt to enhance our abilities and facilities as educators and social servants. We are constantly improving our infrastructure, laboratories and computational facilities to enhance the learning experience of the future architects of our civilization.
As we look back over the years, we remember God's Providence. His blessings have bestowed upon us with gifted leaders, skilled staff, and our precious students, who are enabling the Nageen Group to attain a new height year after year with their achievements. I would like to share a few of the highlights of our history:

I feel highly obliged towards my support system for its constant faith in my abilities to take Nageen Group forward and achieve prominence. I also feel proud to state, that as an educationist, I shall continue to generate thoughts to propel Nageen Group towards new frontiers, and develop a stronger analysis based system to empower our global societies.