St. Xaviers World School Bathinda
St. Xaviers World School Bathinda
We Facilitate our

stake holders

parents

students

teachers

principals

educators

with the best learning opportunities.
We have the ability to deliver great output with satisfactory results within stipulated time with high quality work. Our School provides the perfect blend of academics, curricular and co-curricular activities to give complete sense to education as whole.
About Xavier's High School Group
The St. Xavier's Group of schools have an ideal hierarchical system with the chairman G.S.Patnayak at the apex and Board of Directors to deal with (I) Personnel and Administration (ii) Finance and (iii) Academics.
The whole of the hierarchy is governed by the St. Xavier's Education and Charitable Trust, a trust constituted and registered under the Trusts Registration Act to function as a decision making body and the decisions so taken are implemented and executed by the Group. The trust establishes link among different other. Trusts set up in different localities of different States to run the component units of the Group, i.e. St. Xavier's High schools under them.
---
The school with a difference
The Xavierian ideology believes in activity blended education. Numerous activities going at par with academic curriculum in the Xavierian system to strengthen the edifice of career of the students and bring them all round development in the true sense of the term. Apart from this, the system given wide recognition to various other aspects of knowledge found in those who are not even sound in academic curriculum. No branch of knowledge is neglected. The perceptive teaching imparted schools awaken the creative and leadership skills dormant in every child. Education is customised to meet the aspirational demands of youngsters. The schools embark on the mission to enlighten young minds with delinerate and systemic education, inculcate into them the spirit of being humane as well as social values and spiritual development in a harmonious manner, so that they can confidently fact life's hardships, succeed in the struggle for existence and prove themselves the assets to humanity. Such contribution of the Xavierian schools to the nation makes them the schools with difference.
---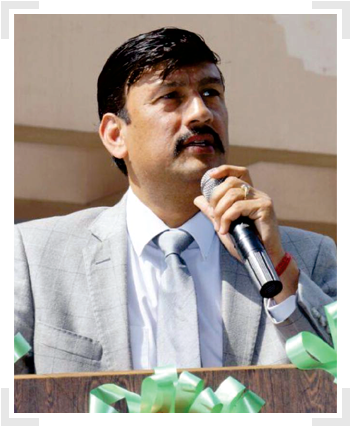 Vishal Jain
Managing Director - Nageen Group
Managing Director Message
"All I am armed with is Research."
- Mike Wallace
In education, we have a great opportunity to make a real difference in the lives of our students, their families, clients, stakeholders, and the world. My Father, Mentor and Founder Chairman of Nageen Group Late Sh. Nageen Chand Jain believed and wished that every individual must succeed, if India is to be a thriving, and competitive nation in the global economy. Under his able leadership, I decided to build a system of education that will set course for future generations to find their mission in life, as I clearly understand the significance of research methodologies and constant perseverance to generate ideas which define success and achievements for each one of us.
Every day in Nageen Group, students, staff, and our clients discover who they are and what they can become—the credit goes to the incredible efforts of our team, and the involvement of our shareholders and our advisory board. By taking time to understand and nurture each individual, we are able to succeed together—we have more smiles to share with each other.
We constantly ponder over what strategies can we use to serve a diverse array of students, not only to master standards, but to learn to share meaningful ideas, to analyze, and to engage deeply in subject matter. We think ahead of time and pre-empt to enhance our abilities and facilities as educators and social servants. We are constantly improving our infrastructure, laboratories and computational facilities to enhance the learning experience of the future architects of our civilization.
As we look back over the years, we remember God's Providence. His blessings have bestowed upon us with gifted leaders, skilled staff, and our precious students, who are enabling the Nageen Group to attain a new height year after year with their achievements. I would like to share a few of the highlights of our history:

I feel highly obliged towards my support system for its constant faith in my abilities to take Nageen Group forward and achieve prominence. I also feel proud to state, that as an educationist, I shall continue to generate thoughts to propel Nageen Group towards new frontiers, and develop a stronger analysis based system to empower our global societies.
---